Welcome to our website
At St. Malachy's Primary School, we are committed to providing a safe, happy and stimulating learning environment for all our pupils.
We have a strong partnership between home and school and the Church and community. Please take time to explore our website which will be updated regularly with news, events and school activities.
Feel free to contact the school if you have any queries.
Anne Bell
Principal
Latest Photographs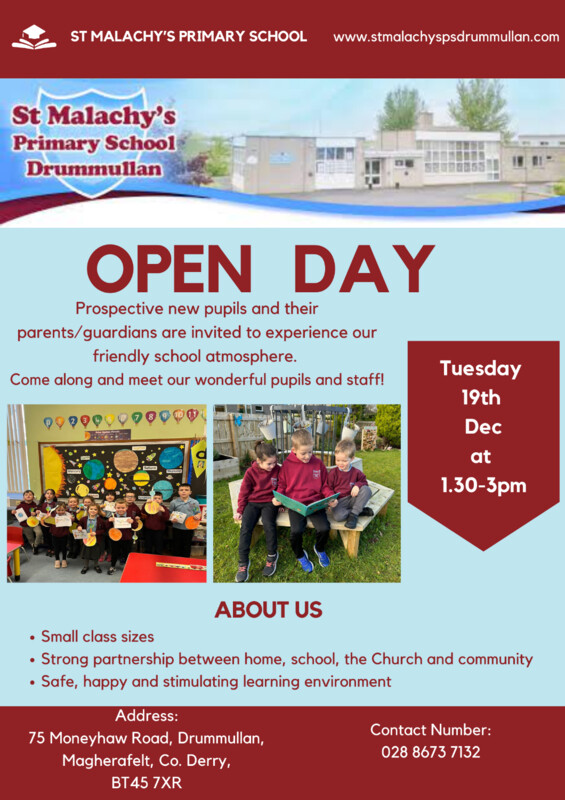 Upcoming Events...
Wednesday, 13th December 2023
Christmas Jumper/Dinner Day (Christmas Dinner will be served to all pupils & all Pupils can wear their Christmas Jumpers on this day)
Irish & Singing (KS1 & KS2 Irish & singing with Edward)
Friday, 15th December 2023
Christmas Carol Service (Our Annual Christmas Carol Service will take place in St Joseph & St Malachy's Church, Drummullan at 7pm)
Tuesday, 19th December 2023
Open Day (For pupils wishing to join our school in September 2024, our Open Day will be on Tuesday 19th December, 1:30 - 3pm. We look forward to welcoming you and your child.)
Friday, 22nd December 2023
Christmas Holidays (School closes at 11:30am for Christmas Holidays)
St Malachy's Primary School, 75 Moneyhaw Rd, Moneymore, Magherafelt BT45 7XR
Phone: 028 8673 7132